Jackie Kennedy Legacy Lives on in Marx Realty's Hospitality-Infused Design at The Herald Office Building in DC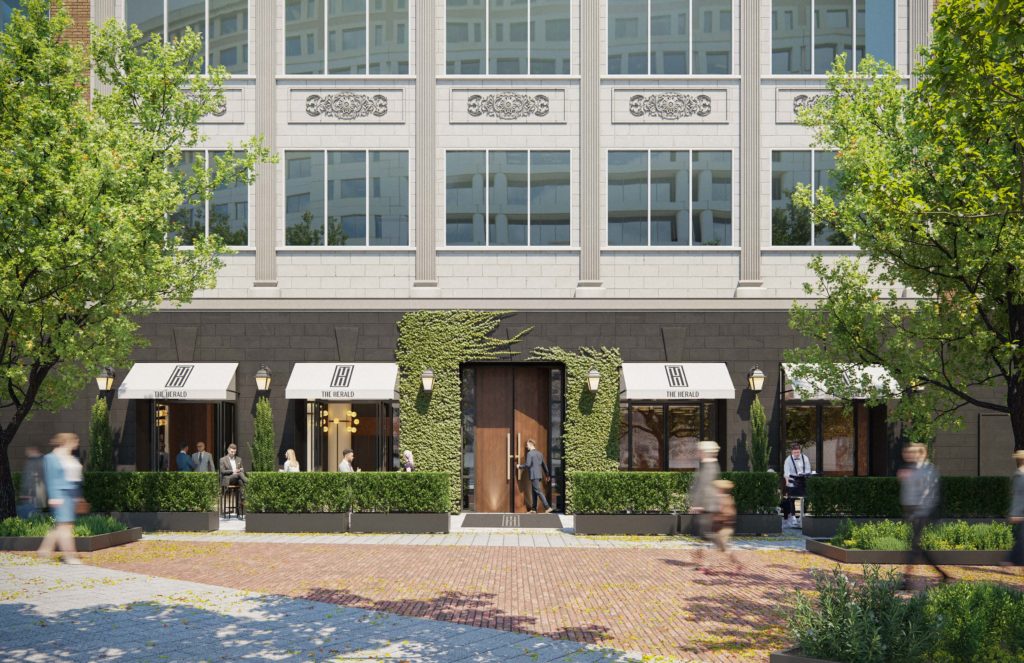 Before Jacqueline Bouvier was Jackie Kennedy, she was the "Inquiring Camera Girl" for the historic Washington Herald newspaper located at 1307 New York Ave in DC. Jackie interviewed people about local events all around the world and worked at the iconic newspaper from 1951 to 1953, right before marrying Kennedy, who at the time was a senator from Massachusetts and a frequent guest of the building.
Fast forward to 2020 and Marx Realty acquired the building, subsequently putting a $41 million renovation into motion. Constructed in 1923, the Beaux-Arts-style office building is known as the former home to the printing presses and offices of the newspaper where Jacqueline Bouvier parked her notebook. With ceiling heights ranging from 13' to 19'7", thanks to the former newspaper use, the offices at The Herald (www.theheralddc.com) will be unlike any other in the DC market.
Marx Realty is focused on adding a hospitality-infused aesthetic throughout the 120,000-square-foot office building. The revamped and reimagined Herald will honor its historic significance while, at the same time, bringing the first top-to-bottom hotel-like sensory experience to the DC office sector.
The repositioning will include an updated entry portal with oversized wooden doors attended by a uniformed doorman. The intimate marble-clad foyer opens to an expansive lounge and club replete with walnut wood and copper accents, ample seating areas and soaring 20-foot ceilings. Marx Realty is designing the highly anticipated Bouvier Club, an 8,800-square-foot lounge space within the building that pays homage to both the building's history and Jackie Kennedy's legacy.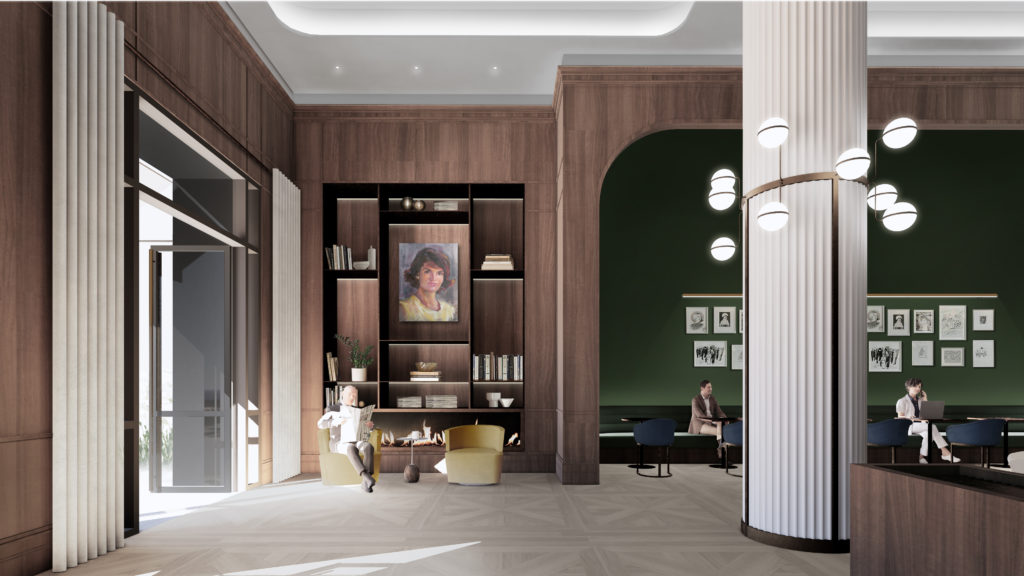 The sophisticated luxury hotel aesthetic will be infused throughout with a new library including a stone-surround fireplace; plush velvet banquette seating; a café offering cappuccino, fruit-infused water and wine; an outdoor patio; and, a 40-seat, state-of-the-art board room. The Herald will also welcome tenants and guests with a uniformed doorman attending oversized wooden entry doors along with curated mood music and Marx Realty's signature scent, another nod to the luxury hotel aesthetic.
"Many of the pioneering design elements coming to The Herald also represent health and wellness attributes that have been in place at Marx properties for years prior to the global pandemic that altered the office landscape," said Craig Deitelzweig, president and CEO of Marx Realty "We are committed to designing beautiful spaces and an overall experience that provides a much-needed sense of warmth and tranquility, as well as safety and wellness, to our tenants and guests."
The Herald will also boast a state-of-the-art fitness center featuring private workout rooms designed with the same meaningful hotel-like atmosphere Marx Realty has popularized. The workout oms, along with every shared space in the building, will include copper and brass along with other antimicrobial materials while the doorman and lounge concierge will work in tandem to reduce the need for tenants and visitors to come in contact with surfaces. Marx Realty's proprietary software interface MarxConnect will be implemented throughout, further minimizing the need for physical interaction.
Additionally, the opportunity to create a building within a building makes this address especially attractive to a variety of firms. The opportunity for a company to secure its own private space in this historic building is unique, allowing them to capitalize on Marx Realty's remarkable skill in creating a tailored office experience for a tenant in tune with the needs of its workforce. In the case of The Herald, this could mean a single tenant would have a separate entrance and access to as much as 50,000 square feet of space over four floors or as little as 12,000 square feet of space over two floors.
With The Herald, Marx Realty will bring a truly distinctive experience to DC, one that combines form and function and as well as health and wellness, a package the company has perfected since the highly successful repositioning of the award-winning 10 Grand Central building in New York. The repositioning will be complete by spring 2021 and is the result of a close collaboration between Marx Realty's design team and David Burns, New York-based principal of Studios Architecture. Renderings and floorplans can be viewed at www.theheralddc.com.
View the Full Article