Betting Big on the Office Building

May 8, 2020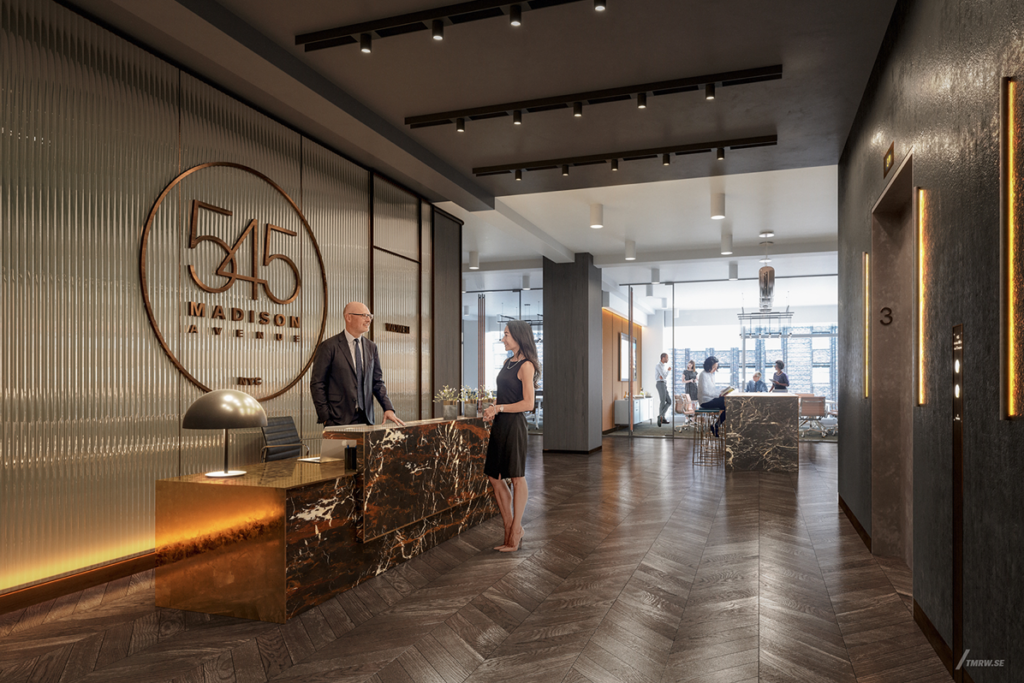 By: Liz Young
Millions of people across the U.S. have spent recent weeks working from home amid the coronavirus pandemic. Some CEOs — including Warren Buffett — have questioned what the demand for office space will look like in the future.
Yet Marx Realty CEO Craig Deitelzweig is confident this is the ideal time for a $24 million office building repositioning in Midtown Manhattan. From his own experience, he's ready to get back to the office, and he believes others will be, too.
"Right now, everyone is rethinking what they want in their office experience, and by the time we complete this construction, the property will be ready and people will be ready to reinvigorate and get back to work," Deitelzweig said.
Marx Realty — a property owner, developer and manager based in New York — is planning the renovations at its 18-story office building at 545 Madison Ave. The firm took control of the property, between East 54th and 55th streets, late last year.
The renovations will include two floors of pre-built office suites and a new lobby and entrance. Asking rents are in the $87 to $115 range, according to a press release.
Tara Stacom of Cushman & Wakefield will lead the team managing leasing and marketing at the property.
The idea is to bring hotel-like finishes into the office building, using warm wood tones, for example. Marx Realty did a similar renovation of its office building 10 Grand Central at 155 E. 44th St.
Creating a hospitality vibe includes playing mood-setting music and having a signature scent in spaces throughout the building. Deitelzweig said tenants believe the office space will help them recruit talent.
The entrance and lobby will resemble a boutique hotel, including a marquee and neon signage by an artist in Brooklyn. The renovation will also add a club floor with a lounge, terrace, boardroom and café.
Marx has made some tweaks to the project to ready the office space for the post-pandemic era.
The building will use materials like brass, copper and specialized fabrics that are antimicrobial. Its doormen and lobby personnel will work to keep employees and visitors from needing to touch anything. Marx Realty will use its software that allows tenants and visitors to check in with their phones.
Architect David Burns of Studios Architecture is designing the lobby and amenity areas. OTJ Architects is working on the pre-built suites on the third and 14th floors.
The renovations are expected to be completed by the end of the year, depending when construction can start.
545 Madison is 77% leased currently, Deitelzweig said, with some tenants that have rolling leases. One tenant has already renewed and expanded its lease. 
Financial software and applications developer Strike Technologies — and its subsidiary Global Trading Systems — signed a five-year, 25,000-square-foot lease renewal and expansion. The offices include space on the 15th, 16th and 17th floors. The asking rent was $95 per square foot.
Other tenants include Home Shopping Network's corporate offices, investment firm Permanens Capital and wealth management companies.
Marx is working with two more tenants to re-up their leases, Deitelzweig said.
He expects companies ranging from private-equity hedge funds to businesses in the fashion and creative industries will be interested in leasing space at the property.
After the pandemic, he expects there may be more demand for office space. 
Deitelzweig believes companies that share desks and offices may want to move away from that model. He said he's been talking with tenants at coworking spaces that are interested in leasing 5,000-to-7,000-square-foot offices at 10 Grand Central. And existing tenants may want to expand their footprints."We do think that tenants will long term decide that they do want to have a little more elbow room, so they will want to take more space," he said.
View the Full Article